Kit Review - EDC Pack
"I absolutely love looking at well designed kit and trying to articulate its genius in writing. So, I make no apologies for getting really excited about this product".
Full Review Here
Fight Or Perish
Created in the United Kingdom, FOP is a brand carved from years of proud military service and hard fought experience. Driven by two friends from different backgrounds, both with the same ambition.
Built around King George V, we have created a strong image that our supporters are proud to wear on Operations, in camp or at the gym.
Our ethos is to provide high quality apparel and gear that you deserve, we will not put our name to anything less.
Fight or Perish is for you, whether you wear uniform, a suit or gym kit.
Life and living can be testing, no matter what you fight or your battle – keep fighting.
Team FOP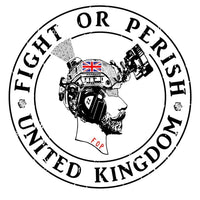 SUPPORT OUR PARAS
SUPPORT OUR PARAS is a charity which supports The Parachute Regiment and Airborne Forces through the welfare of veterans, serving soldiers and their families and through the maintenance of its regimental efficiency, ethos, spirit and heritage.
They provide welfare assistance to veterans, serving soldiers and
families to complement or fill the gaps in State provision, as well as
supporting vital aspects of the Regiment's daily life and history.
Visit SUPPORT OUR PARAS